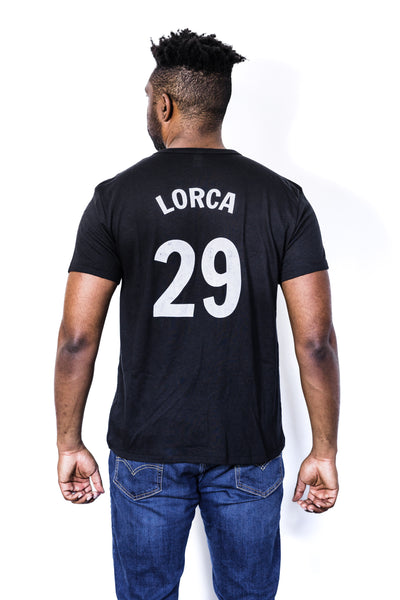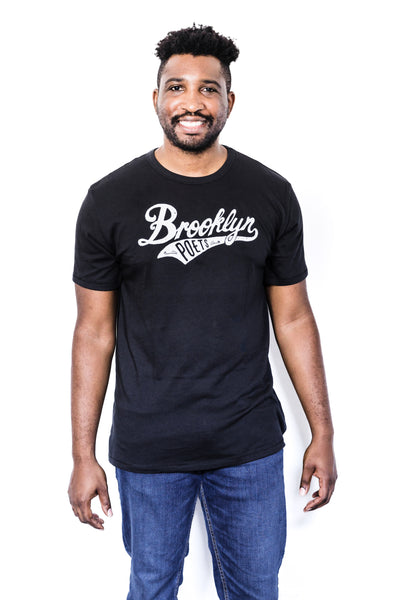 Unisex Baseball Tee: Federico García Lorca #29
Out in the sky, no one sleeps. No one,
     no one.
No one sleeps.
Lunar creatures sniff and circle the
     dwellings.
Live iguanas will come to bite the men who
     don't dream,
and the brokenhearted fugitive will meet on
     street corners

an incredible crocodile resting beneath
     the tender protest of the stars.


—Federico García Lorca, "Sleepless City" (Brooklyn Bridge Nocturne)

In June of 1929, the Spanish poet Federico García Lorca moved for a time to New York City, where he enrolled at Columbia University to study English. Little did he know his journey would take him to Wall Street on the day the stock market crashed, October 24, 1929, an event that would color his dark depictions of New York City in the poems later collected in his classic Poet in New York. His wanderings would also take him to Coney Island and the Brooklyn Bridge, leading him to write two of the most enduring, nightmarish visions of both places in "Landscape of a Vomiting Multitude (Dusk at Coney Island)" and "Sleepless City (Brooklyn Bridge Nocturne)."


Though the great poet was only here for a short time, we celebrate Lorca with #29 to commemorate the poems he wrote that year transforming the two most iconic places in Brooklyn.
Product Details
Screen printed locally at Pete's Print Shop in Greenpoint on Alternative Apparel keeper vintage jersey tees for a luxurious softness. 50% cotton / 50% polyester. Bound collar and blind stitching on sleeves and bottom hem. Tear-away tag.
Color: black.
---