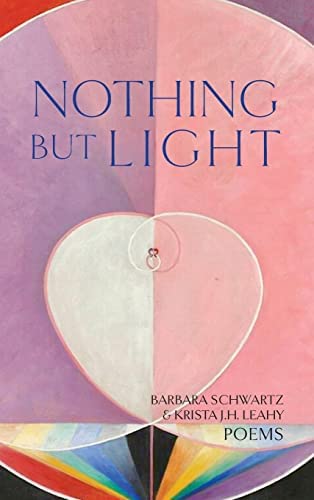 Nothing But Light
"I admire this collaborative collection for its intensity, its formal rigor, and for the many worlds it reveals as it negotiates the space between language, the body, and the divine. Here is a poetry that does not stand still as it powers its way through the propulsive rhythms of time."
- Daniel Borzutzky, The Performance of Becoming Human (National Book Award)
Nothing But Light explores the sacred feminine through the poets' shared visits to places and people of spiritual revelation-a mosque, a temple, a shaman, a tree. Its poems form a guidebook to expansive and numinous spaces of body and spirit.
"I'm compelled by the vulnerability of these collaborative poems, how they powerfully articulate bodily experiences: the erotic, childbirth, a cancer diagnosis, chemo, miscarriage: "My blood has dried out / I write with air." The poets pay unusual attention to the divine, writing poems that are a form of prayer (sometimes irreverent), as they invoke and invent a pantheon of female deities, drawing from Judeo-Christian and world mythology. Ruminating on mortality, they memorably ask, 'What matters the temporary / Habit of skin and bones?'" 
- Rachel Galvin, Elevated Threat Level, (finalist for National Poetry Series and Alice James Books' Kinereth Gensler Award)
"This book is a song: a rolling, rollicking dialogue with emerging selves as they take their place in a textured female lineage, confirming a "world-blown pregnancy." In poems that move from the ecological to the erotic, Leahy and Schwartz re-wild the feminine, invoking the divine while grounding themselves firmly in the work of the body: 'what if goddess is the in. The way through. // Relationship itself.'"
- Joe Pan, Operating Systems