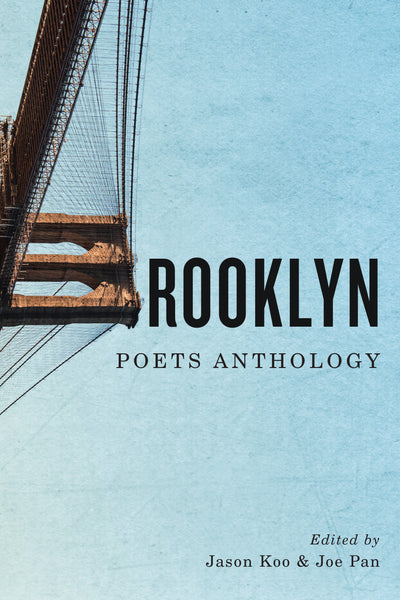 Brooklyn Poets Anthology
Brooklyn has long been known as having one of the most vibrant poetry scenes in the world, yet there has never been an anthology devoted to celebrating the many contemporary poets who call it home. The Brooklyn Poets Anthology is a landmark collection offering a panoramic snapshot of the Brooklyn poetry community—itself composed of many different communities—emphasizing a variety of voices, aesthetics, and traditions.
Gathered here are 170 poets, including Philip Levine, Bernadette Mayer, Vijay Seshadri, Edward Hirsch, Aracelis Girmay, Martín Espada, Gregory Pardlo, Kimiko Hahn, Tom Sleigh, Lemon Andersen, Kim Addonizio, Patricia Spears Jones, Timothy Donnelly, Tyehimba Jess, Matthea Harvey, Cathy Park Hong, Matthew Rohrer, Dorothea Lasky, Anselm Berrigan, Angel Nafis, Joanna Fuhrman, Leigh Stein, Morgan Parker, Ocean Vuong, Tommy Pico, Wendy Xu, former Brooklyn Poet Laureate D. Nurkse, current Brooklyn Poet Laureate Tina Chang, and many more.
As the inaugural volume of a new series, the Brooklyn Poets Anthology offers readers a sense of the richness and diversity of the poetry to be found within this historic borough.
Click here to read selections from the anthology!
Product Details
Publication Date: April 20, 2017
432 Pages
Paperback ISBN: 9781936767526
Ebook ISBN: 9781936767533
Coedited by Jason Koo & Joe Pan
Copublished by Brooklyn Arts Press & Brooklyn Poets
Praise
At a pivotal point in our history, the voices in this anthology are a testament to the survival of differences. No voice is like another, no vision exactly the same, no cry or incantation a mimicry of another's. This is a compilation of individual longing, documented, spoken, and sung. The Brooklyn Poets Anthology is an object of celebration, a map of deep longing, and a cultural compass which will show us what it was like to head most boldly into the twenty-first century, what it was like to make noise, to stand against silence, and to create art in a borough that is a proclaimed safe haven for the multitudinous voices who call Brooklyn their home.
—Tina Chang
"Imagination! who can sing thy force?" said Phyllis Wheatley. Walt Whitman said, "I resist anything better than my own diversity." Our founders opened a road. How proud they would be (I believe) to see the "men and women of a generation, or ever so many generations hence" putting their hands to the plough. At a time when democracy is under attack, and the inner city is a redoubt, the Brooklyn Poets Anthology doesn't just uphold real American values, in all their fierce funky variety, it incarnates them. Jason Koo and Joe Pan have put together a collection that makes a dazzling promise for the future of the pluralistic imagination.
—D. Nurkse
---