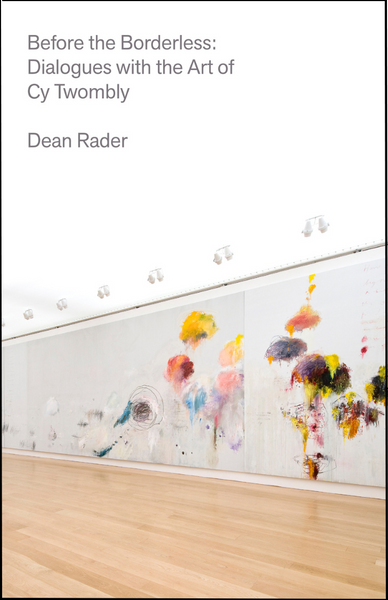 Before the Borderless: Dialogues with the Art of Cy Twombly
In 2018, just a few weeks after his father's death, Dean Rader made a pilgrimage to the Gagosian Gallery in New York to see a retrospective of Cy Twombly's work, In Beauty It is Finished: Drawings 1951-2008. The exhibit led to a poem that would become the genesis of this book — from loss and fear to regret and beauty, Before the Borderless: Dialogues with the Art of Cy Twombly reaches for the embodiment of emotion and the aesthetics of possibility. 
Through a range of experimental forms, including a series of octets, Rader writes to magnify/decode/complicate/question the gestures and energies of 50 Cy Twombly drawings and paintings. He reaches past observation and admiration to create a game of echolocation, reflecting Twombly's infinite scrawls as "saddle stitch, spaghetti curl, white whirl." Even as Rader searches for proximity, examining the gaps between symbols and what they signify, the collection remains unmistakably autobiographical. From the wheatfields of his Western Oklahoma upbringing to questions of loss—first his father and then his mother, who passed only weeks after Rader finished the manuscript for this book—the poems in Before the Borderless are both elegy and prayer, for Rader's parents, for his children, for the world.