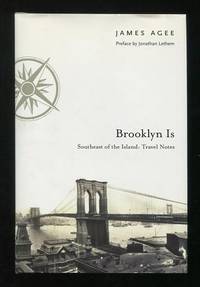 Brooklyn Is: Southeast of the Island: Travel Notes
For the first time in book form―a great writer's classic celebration of the essence of Brooklyn.


In 1939, James Agee was assigned to write an article on Brooklyn for a special issue of Fortune in New York City. The draft was rejected for "creative differences," and remained unpublished until it appeared in 
Esquire
 in 1968 under the title "Southeast of the Island: Travel Notes."

Crossing the borough from the brownstone heights over the Brooklyn Bridge out through backstreet neighborhoods like Flatbush, Midwood, and Sheepshead Bay that roll silently to the sea, Agee captured in 10,000 remarkable words, the essence of a place and its people. Propulsive, lyrical, jazzy, and tender, its pitch-perfect descriptions endure even as Brooklyn changes; Agee's essay is a New York classic. Resonant with the rhythms of Hart Crane, Walt Whitman, and Thomas Wolfe, it takes its place alongside Alfred Kazin's A Walker in the City as a great writer's love song to Brooklyn and alongside E. B. White's Here Is New York as an essential statement of the place so many call home.