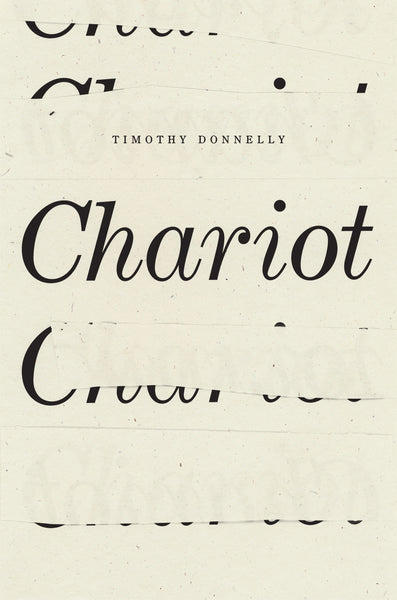 Chariot
Timothy Donnelly's fourth collection of poems, 
Chariot
, ferries the reader toward an endless horizon of questioning that is both philosophical and deeply embodied. "How did we get here?" he asks in his title poem—one of several in conversation with French symbolist Odilon Redon—to which he responds, "Unclear, if it matters; what matters // is we stay—aloft in possible color." With a similar sensibility to previous collections 
The Problem of the Many
 and 
The Cloud Corporation
 (winner of the Kingsley Tufts Award), 
Chariot
 deepens Donnelly's inquiry into artistic histories, from Jean Cocteau to The Cocteau Twins, while celebrating the power of poetic imagination to transport us to new zones of meaning and textual bliss. The collection also marks an exciting shift in form for Donnelly, who confines these new poems to twenty lines each, so that to read 
Chariot
 is to look through a many-paned, future-facing window, refracting and reflecting, letting all the light in.