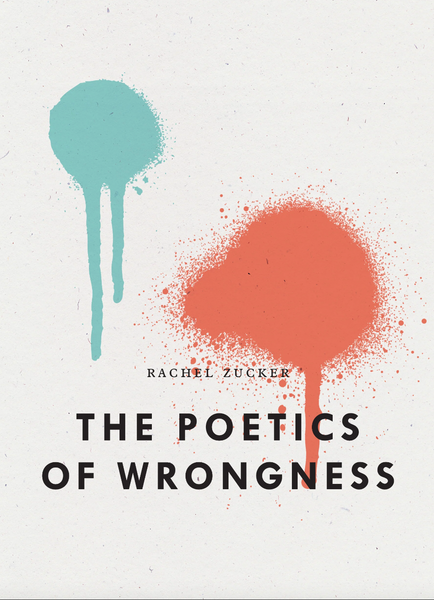 The Poetics of Wrongness
In her first book of critical non-fiction, 
The Poetics of Wrongness, 
poet Rachel Zucker explores wrongness as a foundational orientation of opposition and provocation. Devastating in their revelations, yet hopeful in their commitment to perseverance, these lecture-essays of protest and reckoning resist the notion of being 
wrong
 as a stopping point on the road to being 
right
, and insist on 
wrongness 
as an analytical lens and way of reading, writing, and living that might create openness, connection, humility, and engagement. Expanded from lectures presented for the Bagley Wright Lecture Series in 2016, Zucker's deft dismantling of outdated paradigms of motherhood, aesthetics, feminism, poetics, and politics feel prescient in their urgent destabilization of post-war thinking. In her four essay-lectures (and an appendix of selected, earlier prose), Zucker calls Sharon Olds, Bernadette Mayer, Emily Dickinson, Adrienne Rich, Alice Notley, Natalie Diaz, Allen Ginsberg, Marina Abramović, and Audre Lorde—among others—into the conversation. This book marks a turning point in Zucker's significant body of work, documenting her embrace of the multivocality of interview in her podcasting, and resisting the univocality of the lecture as a form of 
wrongness 
in and of itself.