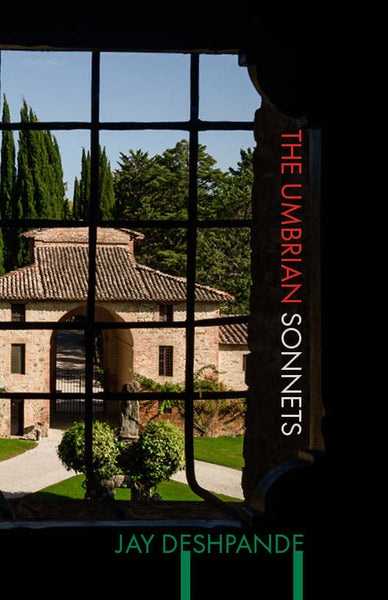 The Umbrian Sonnets
What use is poetry in a world shaped by suffering? Set in an Italian castle during a time of global crisis, this sonnet sequence takes up age-old questions about the ethics of art and the risks of comfort. With lush images and deep urgency, Deshpande makes an argument for beauty amidst chaos, violence and loss.
"Set against the stark terrain of the Italian countryside, Jay Deshpande's The Umbrian Sonnets animates and amplifies age-old questions—on the charge and catastrophe of beauty, on the vexing nature of witness, on "the discomfort of great comfort" —with a keen lyrical intelligence, and deep reserves of care. Here lies the capacity of the sonnet to hold, and to empty: the clean edges of fourteen lines, severities that accommodate simultaneously the sudden blooms of pleasure alongside the pains of the unutterable. These sonnets seek "the best way to speak the necessary," and enthrall us with their speaking and what they cannot say." – Jenny M. Xie
"Attuned to the extremes of beauty and the encroachments of violence and of history, Jay Deshpande's The Umbrian Sonnets makes its setting come alive: its light, its cypresses, its figs. But, in this cycle, the lushest terrain is the terrain of the mind: witnessing beauty, contemplating it, interrogating it. Deshpande knows the sonnet is a poem of eros and a poem of argument. Lurking behind the golden surfaces are the sinister realities of late empire: of borders, of separations—from the ancestors, from one another, and from ourselves. "I want to make the lyric / equal to the castle," the speaker of The Umbrian Sonnets writes, and in sonnet after sonnet, marvelous abstractions find meaning in sumptuous architectures." —Richie Hofmann
About the Author
Jay Deshpande is the author of Love the Stranger (YesYes Books). His poems have appeared in American Poetry Review, New England Review, and elsewhere. The recipient of a Wallace Stegner Fellowship and residencies at Civitella Ranieri and the Saltonstall Arts Colony, he teaches at Brooklyn Poets and Columbia University.