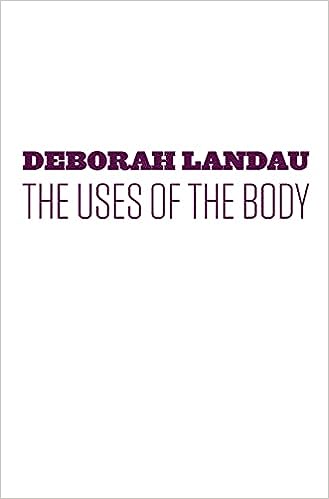 The Uses of the Body
Named one of 12 Favorite Poetry Books of 2015 by 
The New Yorker, one of the "16 Best Poetry Books of 2015″ by BuzzFeed, 
a "Book We Can't Wait to Read" by 
Vogue
, and in the top "8 New Books to Savor" by 
O, the Oprah Magazine
.
Landau's killer wit evokes Dorothy Parker crossed with Sylvia Plath--leaping spark after spark, growing to deadly dark fire. "
                                                                             --
Los Angeles Times
"A thrilling meditation on the passages of a woman's life."  
                                                                                           --
O, The Oprah Magazine
"Like Richard Linklater's 
Boyhood, 
but for girls (and women): Deborah Landau's vividly relatable third collection, 
The Uses of the Body
, reminds us that coming of age lasts well beyond adolescence. "  
                                                                                         --
Vogue
Deborah Landau's third collection,

 
The Uses of the Body
, is propelled by two unanticipated events--a death and a birth. The drives and vulnerabilities of the female body, and its various "uses," fill these lyrically haunting poems with tenderness, regret, and desire. The poems slant and swerve as Landau explores the complexities of marriage, motherhood, and sexuality, conjuring a cherished domestic life beset by ennui and illness and singing often unspoken truths.

The uses of the body are wake up.
The uses of the body, illusion.
 
The uses of the body. Rinse,repeat.
To make another body.
 
September. Draw the blanket up.
Lace your shoes.
 
The major and minor passions.
Sunlight. Hair.
 
The basic pleasures. Tomatoes, Keats,
meeting a smart man for a drink.
 
The uses of the body.
It is only a small house. It gets older.
 


Deborah Landau
 

is the author of three collections of poetry. Her poems have appeared in

 
The Paris Review
,

 
Poetry
,

 
The New Yorker
,

 
Tin House
, and

 
The New York Times
. She directs the Creative Writing Program at New York University and lives in Brooklyn.