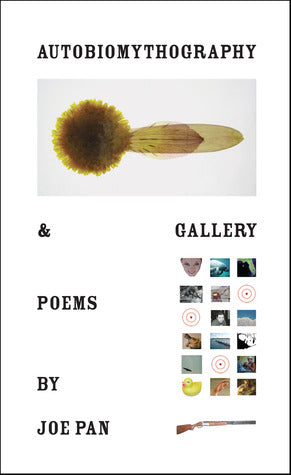 Autobiomythography & Gallery
Named the Best First Book of poems for the year, this collection by Joe Pan was short-listed for the Yale Younger Poets prize, the National Poetry Series, and the Academy of American Poets Walt Whitman Award, offering its readers a language that is striking nearly perfect.
Joe Pan is the author of two poetry collections, Autobiomythography & Gallery (BAP) and Hiccups, or Autobiomythography II (Augury Books). He is the publisher and managing editor of Brooklyn Arts Press, serves as the poetry editor for the arts magazine Hyperallergic, and is the founder of the services-oriented activist group Brooklyn Artists Helping. His piece "Ode to the MQ-9 Reaper," a hybrid work about drones, was excerpted and praised in The New York Times. In 2015 Joe participated in Lower Manhattan Cultural Council's Process Space artist residency program on Governors Island. Joe attended the Iowa Writers' Workshop, grew up along the Space Coast of Florida, and now lives in Williamsburg, Brooklyn.