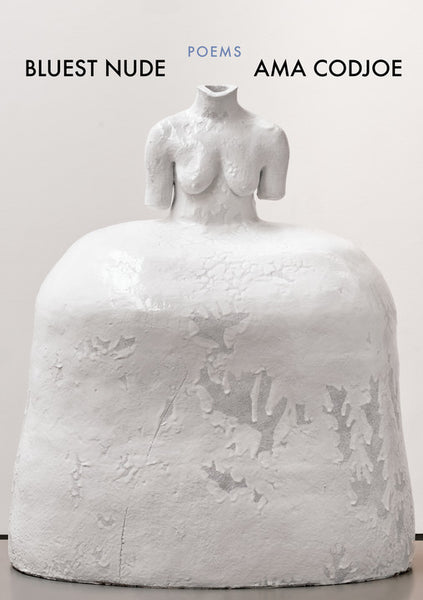 Bluest Nude
Finalist for the NAACP Image Award for Outstanding Literary Work
Ama Codjoe's highly anticipated debut collection brings generous light to the inner dialogues of women as they bathe, create art, make and lose love. Each poem rises with the urgency of a fully awakened sensual life.
Codjoe's poems explore how the archetype of the artist complicates the typical expectations of women: be gazed upon, be silent, be selfless, reproduce. Dialoguing with and through art, Bluest Nude considers alternative ways of holding and constructing the self. From Lorna Simpson to Gwendolyn Brooks to Lynette Yiadom-Boakye, contemporary and ancestral artists populate Bluest Nude in a choreography of Codjoe's making. Precise and halting, this finely wrought, riveting collection is marked by an acute rendering of highly charged emotional spaces.
Purposefully shifting between the role of artist and subject, seer and seen, Codjoe's poems ask what the act of looking does to a person—public looking, private looking, and that most intimate, singular spectacle of looking at one's self. What does it mean to see while being seen? In poems that illuminate the tension between the possibilities of openness and its impediments, Bluest Nude offers vulnerability as a medium to be immersed in and, ultimately, shared as a kind of power: "There are as many walls inside me / as there are bones at the bottom of the sea," Codjoe writes in the masterful titular poem. "I want to be seen clearly or not at all."
"The end of the world has ended," Codjoe's speaker announces, "and desire is still / all I crave."
Startling and seductive in equal measure, this formally ambitious collection represents a powerful, luminous beginning.