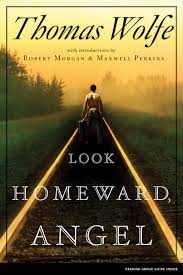 Look Homeward, Angel
The spectacular, history-making first novel about a young man's coming of age by literary legend Thomas Wolfe, was first published in 1929 and is long considered a classic of twentieth-century literature.


A legendary author on par with William Faulkner and Flannery O'Connor, Thomas Wolfe published 
Look Homeward, Angel
, his first novel, about a young man's burning desire to leave his small town and tumultuous family in search of a better life, in 1929. It gave the world proof of his genius and launched a powerful legacy.

The novel follows the trajectory of Eugene Gant, a brilliant and restless young man whose wanderlust and passion shape his adolescent years in rural North Carolina. Wolfe said that 
Look Homeward, Angel
 is "a book made out of my life," and his largely autobiographical story about the quest for a greater intellectual life has resonated with and influenced generations of readers, including some of today's most important novelists. Rich with lyrical prose and vivid characterizations, this twentieth-century American classic will capture the hearts and imaginations of every reader.