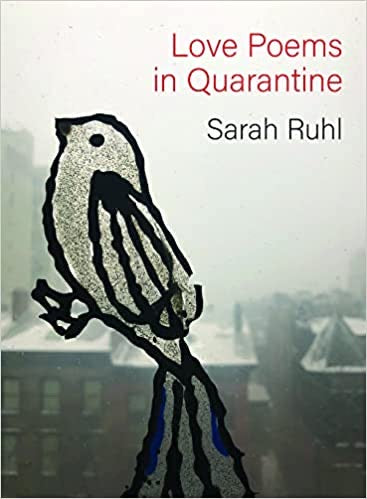 Love Poems in Quarantine
Writing from and toward "the endless desire / to be at home in the world," Sarah Ruhl wrote Love Poems in Quarantine to mark the passage of time when all familiar landmarks disappeared. From the dawn of the COVID-19 pandemic, to the murder of George Floyd, to months of simultaneous quarantine and protest, this is—in free verse and form, lamentation and meditation—a book of days, a survival kit for spiritual malady. These poems find small solace in domestic absurdities. Even in global crisis, there is the laundry. The dog rolls in something putrid, the child interrupts a Zoom meeting, and dinner must get made, again and again. Using language to travel and touch when bodies could not, Ruhl has drawn with great care a portrait of a year unlike any other in history.
ABOUT THE AUTHOR 
Sarah Ruhl is a playwright, essayist and poet. She is a MacArthur "Genius" Award recipient, two-time Pulitzer Prize finalist, and a Tony Award nominee. Her book of essays, 100 Essays I Don't Have Time to Write, was published by FSG and named a notable book by The New York Times. Her book Letters from Max, co-authored with Max Ritvo and published by Milkweed Editions, was on the The New Yorker's Best Poetry of the Year list. Her plays include For Peter Pan on her 70th Birthday; How to Transcend a Happy Marriage; The Oldest Boy; Stage Kiss; Dear Elizabeth; In the Next Room, or the Vibrator Play; The Clean House; Passion Play; Dead Man's Cell Phone; Melancholy Play; Eurydice; Orlando; Late: A Cowboy Song, and a translation of Chekhov's Three Sisters. Her plays have been produced on and off Broadway, around the country, and internationally, where they've been translated into over fifteen languages. Originally from Chicago, Ms. Ruhl received her MFA from Brown University where she studied with Paula Vogel. She has received the Susan Smith Blackburn Prize, the Whiting Award, the Lilly Award, a PEN award for mid-career playwrights, the National Theater Conference's Person of the Year Award, and the Steinberg Distinguished Playwright Award. She teaches at the Yale School of Drama, and lives in Brooklyn with her family. 

Product Details:
Publisher: Copper Canyon Press (May 31, 2022)
Paperback: 144 pages