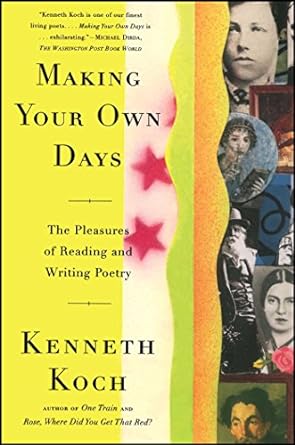 Making Your Own Days: The Pleasures of Reading and Writing Poetry
From one of the most esteemed American poets of the twenty-first century comes a celebration of poetry and an invitation for anyone to experience its beauty and wonder.


Full of fresh and exciting insights, 
Making Your Own Days
 illuminates the somewhat mysterious subject of poetry for those who read it and for those who write it—as well as for those who would like to read and write it better. By treating poetry not as a special use of language but as a distinct language—unlike the one used in prose and conversation—Kenneth Koch clarifies the nature of poetic inspiration, how poems are written and revised, and what happens to the heart and mind while reading a poem.

Koch also provides a rich anthology of more than ninety works from poets past and present. Lyric poems, excerpts from long poems and poetic plays, poems in English, and poems in translation from Homer and Sappho to Lorca, Snyder, and Ashbery; each selection is accompanied by an explanatory note designed to complement and clarify the text and to put pleasure back into the experience of poetry.