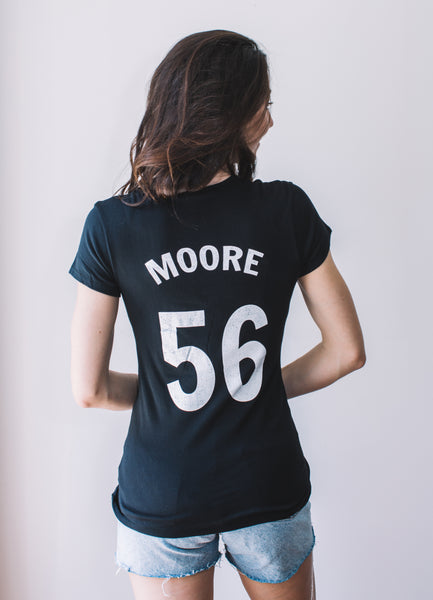 Women's Baseball Tee: Marianne Moore #56
You've got plenty: Jackie Robinson
and Campy and big Newk, and Dodgerdom
     again
watching everything you do. You won last
     year. Come on.
—Marianne Moore, "Hometown Piece for Messrs. Alston and Reese," 1956
In the fall of 1956, Marianne Moore's poem "Hometown Piece for Messrs. Alston and Reese" appeared on the front page of the Herald Tribune on the first day of the World Series between Moore's beloved Brooklyn Dodgers and the hated New York Yankees, whom Brooklyn had finally beaten the year before to win their first World Series title. Moore's poem celebrates the "pandemonium" of "Dodgerdom / crowned" and roots the Dodgers on to another World Series victory. Unfortunately, the Dodgers lost the 1956 series in 7 games, which included the perfect game pitched by the Yankees' Don Larsen in the pivotal Game 5 with the series tied 2-2. The next year the Dodgers moved to LA, changing Brooklyn forever.
We celebrate Moore, baseball's Poet Laureate and resident of Fort Greene for 37 years, with #56 to commemorate her poem celebrating the last great year in Brooklyn baseball history and her rise to a new level of stardom in the 1950s, when she won the National Book Award, the Pulitzer Prize and the Bollingen Prize and became a cultural icon.
Product Details
Screen printed locally at Pete's Print Shop in Greenpoint on Alternative Apparel women's keepsake vintage jersey tees for a luxurious softness. 50% cotton / 50% polyester. Bound collar and blind stitching on sleeves and bottom hem. Tear-away tag.
Color: black.
Fit: women's tees have a slimmer, more tapered silhouette and a slightly wider neck than unisex tees.